COMPETITION IS NOW CLOSED
THANK YOU FOR YOUR CONTRIBUTIONS
WINNING ENTRIES HAVE BEEN DECIDED!!
Here is a POWERPOINT SLIDESHOW of the winning entries. After the slide view opens, click "Start Slideshow" and enjoy the presentation. Slides will automatically advance.
Please check back for additional displays of the artwork.
* * * * * * * * * * * * *
We look forward to next year's Arts of Peace Competition! Please join us!
*******************
ARTS OF PEACE: A STUDENT ART SHOW and COMPETITION - SPRING 2023 -
SUBMIT YOUR 2-D ARTWORK BEGINNING
APRIL 15th through MAY 15th *** EXTENDED TO MAY 18th, 4pm EST *
"Artists are the gatekeepers of truth. We are civilization's anchor. We are the compass for humanity's conscious." Harry Belafonte
---
Rockville Rotary Club is holding our very first ARTS of PEACE student art show and competition this spring. The ARTS of PEACE art show and competition is being held in conjunction with the Peace Committee and the Youth Services Committee as part of our new mandate to become a PEACEBUILDER CLUB.
---
Follow the three steps below to include your artwork in the
ARTS of PEACE COMPETITION!
---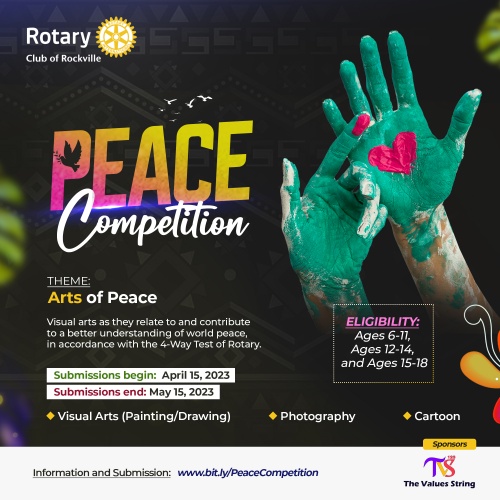 ---
REVIEW THE COMPETITION BACKGROUND:
WHO MAYPARTICIPATE
Students ages 6-11, 12-14, and ages 15-18. who are also directly or indirectly affiliated with a Rotary Club, across all areas of the globe, are welcome to participate.
TYPES OF ART SUBMISSIONS
Those eligible, as mentioned above, may submit one artwork in digital format. The student must choose from one of the following three categories: (1) painting/drawing (all forms), (2) photography, and (3) cartoons.
THE ARTWORK MUST BE 2-D only.
COMPETITION THEME
The competition theme is PEACE and how it relates to the ROTARY 4-WAY TEST. In step 2 below, you can review the ROTARY 4-WAY TEST and determine how your artwork relates to one or more of the 4 prongs of the test. If you are unsure, you may simply state what your artwork means to you in terms of peacebuilding.
CRITERIA FOR JUDGING
Work will be judged according to aesthetic principles, application of one or more components of the Rotary 4-Way Test, and the student's vision of peace as communicated through the medium of art.
TIMELINE
Submissions will be accepted in digital format online from APRIL 15th to MAY 15th.
Judges will announce the First, Second, and Third Place awards within each age and content category on AUGUST 24th.
All of the art work entries will be on display on the webpage from AUGUST 24th through NOVEMBER 15th.
Two webinars will be available for all participants on September 30th and/or October 7th. (More information forthcoming.)
A calendar with the winning entries will be available in the fall.
AWARDS:
All entries receive a certificate of participation. All entries will be able to attend a virtual workshop on a topic related to art framing, art showing, or other topic.
Ribbon awards are issued to 1st, 2nd, and 3rd place winners along with a participation certificate. Winning entries will also be included in an Arts of Peace Calendar to be issued in the fall.
Additional opportunities for winning entries and other participants artwork to be displayed will be available on the Rockville Rotary Club website.
---
REVIEW THE COMPETITION THEME: PEACE related to the ROTARY 4-WAY TEST.
ROTARY 4-WAY TEST:
There are many paths to peace. Rotarians look to the 4-WAY TEST in all things, including peacebuilding.
Adopted by Rotary in 1943, The Four-Way Test has been translated into more than a hundred languages and published in thousands of ways. It asks the following four questions:

"Of the things we think, say or do:
Is it the TRUTH?
Is it FAIR to all concerned?
Will it build GOODWILL and BETTER FRIENDSHIPS?
Will it be BENEFICIAL to all concerned?
A PEACEBUILDER CLUB Wages Peace!!
Rotarian Peacebuilder Clubs commit to engage in dialogues and projects that promote positive peace in both their communities and around the globe.
---
SUBMIT YOUR ARTWORK
TO ENTER: Click here>> THE SUBMISSION FORM << will take you through the steps needed to submit your digital file. This link will be available 4/15/23 through 5/15/23.
THANK YOU!
---
DONATIONS:
To donate in support of ARTS OF PEACE, please use the following donation button or contact our Peace Committee Chair, Ukpeme Okon. THANK YOU! ! All donations are welcome.
Rockville Rotary Club PEACE COMMITTEE
Chair, Ukpeme Okon.
Members: Chuck Woolery, Irina Lujan, Patrice Donnelly