Thank You to our corporate sponsors for a wonderful 2023 Flags for Heroes Event!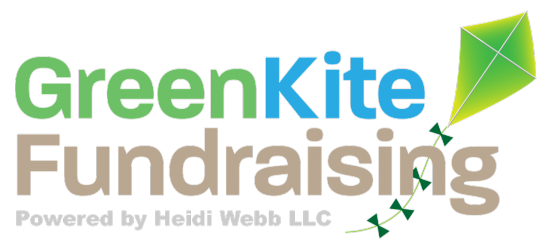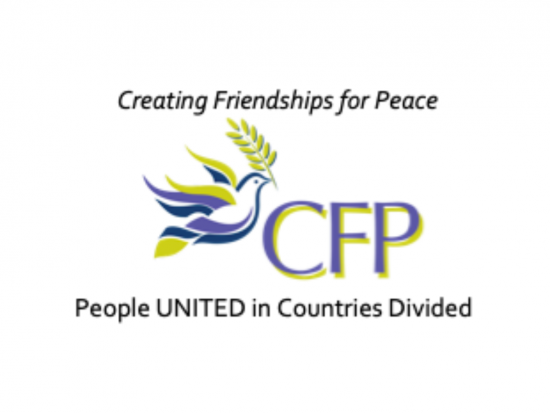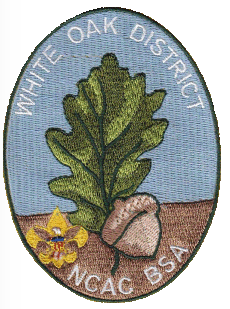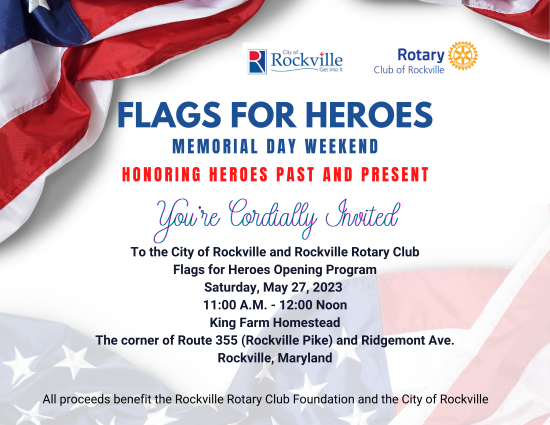 Who is Your Hero?
Heroes don't have to wear a cape. Some wear a uniform; some wear scrubs and others have done something to make a difference in your life such as a coach or teacher. Some have performed service to our community or the world. Honor our present heroes and past fallen heroes. Please join us as we honor them with a field of flags waving proudly to honor every hero!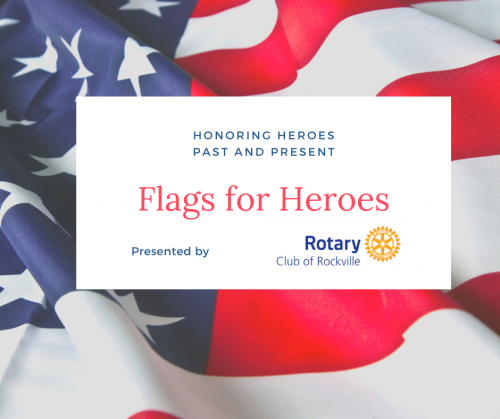 Reserve Today!
Honor your hero by sponsoring to fly a flag with a $50.00 contribution. Each of the 300 flags on display during Memorial Day Weekend at the King Farm Homestead along Rockville Pike will be identified with a commemorative tag attached to show the name of the individual it is in honor/memory of during the event. Tags will be given to the sponsors following the event. Flags remain property of the Rockville Rotary Foundation, Inc.
Click here to download Informational Flyer
Click here to download Corporate Sponsorship Flyer
Map of event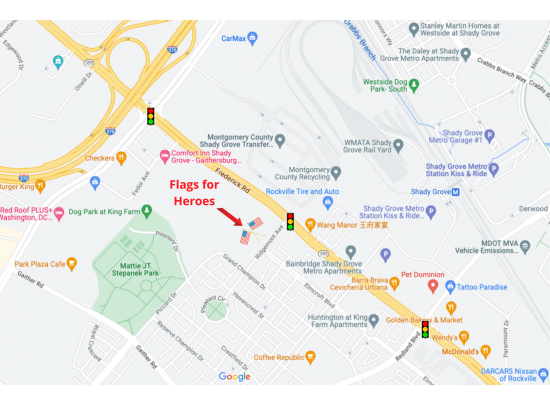 Support Our Foundation
The Rotary Club of Rockville and the Rockville Rotary Foundation, Inc. is proud to present this event along with the support of our corporate sponsors and the community flag donors. The Rockville Rotary Club Foundation, Inc. is a 501(c)(3) charitable organization. Your contribution is tax deductible.



Event Specific Details
Flags will be on display from from 9 am Saturday until 4 pm on Monday.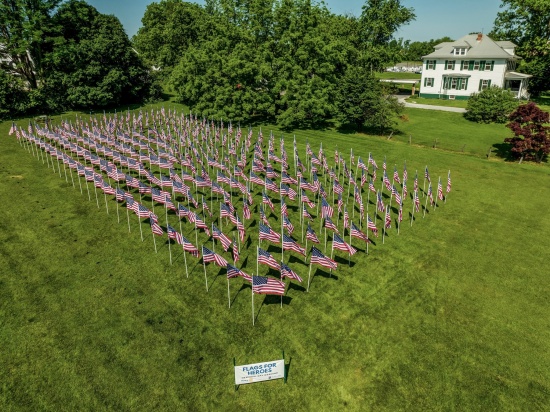 Click Here for Opening Ceremony Program
Click Here for Opening Ceremony Insert/Sponsors
2023 Flag Locator by Honoree
| | | | |
| --- | --- | --- | --- |
| Location | Hero | Hero Type | Donor |
| A1 | NICOLE ABERA | KTS Administrator | Akoss Schuppius |
| A2 | ABRAHAM | Father of the Faithful | Edco and Cecilia Bailey |
| A3 | JACOB ADAMS | Avery Road Treatment Center Community Leadership Award | Chuck Woolery |
| A4 | MADELEINE ALBRIGHT | Former US Secretary of State | Edco and Cecilia Bailey |
| A5 | HERBERT ALEXANDER | CW Inc. | Edco and Cecilia Bailey |
| A6 | JIM AMMERMAN | Reverand CFGC | Edco and Cecilia Bailey |
| A7 | PATRICIA AMORASINGH | KTS Teacher Assistant | Jim Gilchrist |
| A8 | O. CLIFFORD and L. JANE ANDERSON | Family | Patrice Donnelly |
| A9 | JOSE & LEANNA ANIEKWE | Friend | Edco and Cecilia Bailey |
| A10 | BENIGNO AQUINO 1983 | Politician from Phillippines | Edco and Cecilia Bailey |
| A11 | MUSTAFA KEMAL ATATURK | Founder of the Republic of Turkey, War Hero, Revolutionist | Hande and Ali Apaydin |
| A12 | SARAH AUSTEIN | KTS Teacher | Hande and Ali Apaydin |
| A13 | JOHANN S BACH 1685-1750 | Composer | Edco and Cecilia Bailey |
| A14 | WALTER BAILEY | US Army Korean War | Edco and Cecilia Bailey |
| A15 | ROSCOE BAILEY | US Air Force, Alaska | Edco and Cecilia Bailey |
| A16 | RUDOLF BAILEY | US Army 20 years | Edco and Cecilia Bailey |
| A17 | MATTHEW BAILEY | US Army Vietnam War | Edco and Cecilia Bailey |
| A18 | GERALDINE BAILEY | US Air Force, Iraq War | Edco and Cecilia Bailey |
| A19 | ROBERT & RUTH BAILEY | Family | Edco and Cecilia Bailey |
| A20 | THEODORE R BAILEY | Family | Edco and Cecilia Bailey |
| A21 | EDCO BAILEY | US Army Vietnam War | Hande and Ali Apaydin |
| A22 | GEOFFREY BAKER | KTS Teacher | Hande and Ali Apaydin |
| A23 | MATHIEU BAKIMA | KTS Teacher Assistant | Jim Gilchrist |
| A24 | TARYCA BALTIMORE | KTS Teacher | Hande and Ali Apaydin |
| A25 | ANANYA BANERJEE | KTS Teacher | Hande and Ali Apaydin |
| B1 | IVY BARCLAY | KTS Teacher Assistant | Jim Gilchrist |
| B2 | MENACHEM BEGIN | Martyr of Peace Accord with Israel | Edco and Cecilia Bailey |
| B3 | STEVE BEKO | Friend | Edco and Cecilia Bailey |
| B4 | LT. COLONEL KIM BELL USAF | US Air Force | Linda Ziglar |
| B5 | JOSEPH BEUMER | KTS Teacher | Hande and Ali Apaydin |
| B6 | PAUL E. BOBEN | Family | Paul Boben |
| B7 | SIMON BOLIVAR | South American Freedom Fighter | Edco and Cecilia Bailey |
| B8 | STEPHANIE BOTTERELL | KTS Teacher | Hande and Ali Apaydin |
| B9 | LESLIE BOYLAN, NP | Medical Provider of Kaseman Clinic | Heidi Webb |
| B10 | MIKE BROWN OF BALTIMORE | Local Hero | Edco and Cecilia Bailey |
| B11 | GAUTAMA SIDDHARTHA BUDDHA | Buddha | Edco and Cecilia Bailey |
| B12 | TOM BUI | Chiropractic Doctor, Joint Base Andrews Airforce base | Chuck Woolery |
| B13 | MORRIS BUSSEY | Reverand | Edco and Cecilia Bailey |
| B14 | ROBERT G. BUTLER, JR | Maj. General, U.S. Army | Susan Gordon |
| B15 | CPL ANDY ANASTACIO CABRERA | United States Marine Corps, July 10, 1948 to January 03, 1968 Viet-Nam | Eliseo and Irina Lujan |
| B16 | HAILEY CARONE | KTS Teacher | Hande and Ali Apaydin |
| B17 | JOSH CARPENTER | KTS Teacher Assistant | Jim Gilchrist |
| B18 | RON CARVER | Went South in the 60s | Edco and Cecilia Bailey |
| B19 | TERESITA CASTRO | Patient Support Services of Kaseman Clinic | Jim Gilchrist |
| B20 | ST. CECILIA, 200-230 ROME | Saint | Edco and Cecilia Bailey |
| B21 | CHANEY, GOODMAN, SCHWERNER | Martyrs | Edco and Cecilia Bailey |
| B22 | CAP CHAPLAIN CORPS VOLUNTEERS | Chaplain Corps | Edco and Cecilia Bailey |
| B23 | SHARNET CHAVIS | KTS Administrator | Susan Gordon |
| B24 | JENNIFER CONNERTON | KTS Teacher Assistant | Jim Gilchrist |
| B25 | JACK COOPER | Father of Connie Dove and Friend | Theresa Garcia-Parks |
| C1 | MARIA CORDERO | Specialty Care Referral Coordinator of Kaseman Clinic | Jim Gilchrist |
| C2 | COVID-19 1ST RESPONDERS | Healthcare Heroes | Edco and Cecilia Bailey |
| C3 | PROFESSOR HARVEY COX | Professor Harvard University | Edco and Cecilia Bailey |
| C4 | DR. STEVE CROMWELL | WW2 Soldier | Eileen McGuckian |
| C5 | DANIEL | Biblical Hero | Edco and Cecilia Bailey |
| C6 | SGT. BO (WILLIAM) DEAN USAF | US Air Force | Linda Ziglar |
| C7 | ARISTIDES&ELVIA DIAZ-DURAN | Family/Friend | Edco and Cecilia Bailey |
| C8 | RHONDA DICKEN | KTS Teacher Assistant | Jim Gilchrist |
| C9 | C GERARD and M. ROSE DONNELLY | Family, US Navy | Patrice Donnelly |
| C10 | JAMES and CATHERINE DONNELLY | Family | Patrice Donnelly |
| C11 | REV.JOHN DOUGLAS, AEA | Reverand | Edco and Cecilia Bailey |
| C12 | SYLVESTER & DORIS M EDDINGS | Family/Friend | Edco and Cecilia Bailey |
| C13 | RITRISHA ELLINGTON | KTS Teacher Assistant | Jim Gilchrist |
| C14 | ESTHER | Biblical Hero | Edco and Cecilia Bailey |
| C15 | HALEY EVELER | KTS Teacher | Hande and Ali Apaydin |
| C16 | MEDGAR EVERS 1963 | Marytyr | Edco and Cecilia Bailey |
| C17 | EZRA | Biblical Hero | Edco and Cecilia Bailey |
| C18 | OUR LADY OF FATIMA 1917 A.D. | Saint | Edco and Cecilia Bailey |
| C19 | JANAIA FORD | KTS Teacher Assistant | Jim Gilchrist |
| C20 | POPE FRANCIS, 1936 | Religious Leader | Edco and Cecilia Bailey |
| C21 | NICHOLAS FRANTZ | KTS Teacher Assistant | Jim Gilchrist |
| C22 | DANA FREEDMAN | KTS Teacher | Hande and Ali Apaydin |
| C23 | ST. GABRIEL | Archangel, Messenger | Edco and Cecilia Bailey |
| C24 | DOMININIC GAIMARO | KTS Teacher Assistant | Jim Gilchrist |
| C25 | SANDY GALVIN, LPN | Nurse of Kaseman Clinic | Heidi Webb |
| D1 | MAHATMA GANDHI | Leader of the Republic of India | Edco and Cecilia Bailey |
| D2 | GABRIEL GARCIA MARQUEZ | Author | Edco and Cecilia Bailey |
| D3 | BINTOU GAYE | KTS Teacher Assistant | Jim Gilchrist |
| D4 | KAHLIL GIBRAN | Writer Poet | Edco and Cecilia Bailey |
| D5 | JIM GILCHRIST | Maryland Senate Delegate for 16 years | Hande and Ali Apaydin |
| D6 | CHARLES GOLDBERG | Comrade of S.E. Asia Campaign | Edco and Cecilia Bailey |
| D7 | SILVIA GOLIJOV | KTS Teacher | Hande and Ali Apaydin |
| D8 | LAUREN E. GORDON | Major, U.S. Marine Corps | Susan Gordon |
| D9 | KEITH GORDON | Teacher, Poolesville HS | Susan Gordon |
| D10 | MARK GORDON | Lt. Colonel, U.S. Army | Susan Gordon |
| D11 | JULIUS & CHARLOTTE GOTTLIEB | Family/Friend | Edco and Cecilia Bailey |
| D12 | BREANA GRETSKY | KTS Teacher | Hande and Ali Apaydin |
| D13 | RAEL GRIFFIN | KTS Teacher Assistant | Jim Gilchrist |
| D14 | VICTORIA GROSSMAN | KTS Teacher Assistant | Jim Gilchrist |
| D15 | OUR LADY OF GUADALUPE, 1531 AD | Saint | Edco and Cecilia Bailey |
| D16 | MAIANNE GUIRGUIS | KTS Teacher | Hande and Ali Apaydin |
| D17 | GUS, THE KNIGHT RIDER | Personal Hero | Edco and Cecilia Bailey |
| D18 | PETTY OFFICER E6 VERN HAAS USN | US Navy | Linda Ziglar |
| D19 | KELSEY HALL | KTS Teacher | Hande and Ali Apaydin |
| D20 | GEORGE FREDERIC HANDEL | Composer | Edco and Cecilia Bailey |
| D21 | CHAPLAIN OSSIE HEATON | Shady Grove Adventist Hospital | Edco and Cecilia Bailey |
| D22 | SERGEANT GORDY HENRY | Army Sergeant | Edco and Cecilia Bailey |
| D23 | MARIBEL HERNANDEZ | Front Desk Staff of Kaseman Clinic | Jim Gilchrist |
| D24 | HILDEGARD VON BINGEN 1098-1179 | Saint | Edco and Cecilia Bailey |
| D25 | GERARD M. HOPKINS (1844-1889) | Poet | Edco and Cecilia Bailey |
| E1 | ANN MARIE HUGHES | Family/Friend | Edco and Cecilia Bailey |
| E2 | GABRIEL JAAR | KTS Teacher | Hande and Ali Apaydin |
| E3 | JESUS CHRIST, MESSIAH, SON OF GOD | Messiah | Edco and Cecilia Bailey |
| E4 | ST. JOAN OF ARC, C 1412-1431 | Historical Hero | Edco and Cecilia Bailey |
| E5 | BRITTA JOHANSON CAMINITI | KTS Teacher | Hande and Ali Apaydin |
| E6 | APOSTLE ST. JOHN | Apostle Saint | Edco and Cecilia Bailey |
| E7 | POPE ST. JOHN PAUL II 1920-2005 | Pope Saint | Edco and Cecilia Bailey |
| E8 | PRESIDENT LYNDON B JOHNSON | Former President of the United States | Edco and Cecilia Bailey |
| E9 | DEAN LARRY JONES | Dean, Howard University | Edco and Cecilia Bailey |
| E10 | GABIELLE JONES | KTS Teacher | Hande and Ali Apaydin |
| E11 | ST. JOSEPH | Saint | Edco and Cecilia Bailey |
| E12 | JUDITH OF BIBLICAL TIMES | Biblical Hero | Edco and Cecilia Bailey |
| E13 | ST. JULIAN OF NORWICH | Saint | Edco and Cecilia Bailey |
| E14 | ELEANOR JUNG | KTS Teacher Assistant | Jim Gilchrist |
| E15 | NATHANIEL KAHN | KTS Teacher | Hande and Ali Apaydin |
| E16 | MARTIN LUTHER KING, JR. | Civil Rights Hero | Edco and Cecilia Bailey |
| E17 | ST. MAXIMILLIAN KOLBE, POLAND | Martyr Poland Auschwitz | Edco and Cecilia Bailey |
| E18 | CHAPLAIN HARRY KRUEGER | Shady Grove Adventist Hospital | Edco and Cecilia Bailey |
| E19 | GRACE LANG OF SYDNEY | Friend | Edco and Cecilia Bailey |
| E20 | MAJOR DAGFINN T. LARSEN USAF | US Air Force | Linda Ziglar |
| E21 | MAJOR JOHN LARSEN USA | US Army | Linda Ziglar |
| E22 | SGT. KEN LARSEN USA | US Army | Linda Ziglar |
| E23 | JULIE LAURICELLA | KTS Teacher Assistant | Jim Gilchrist |
| E24 | ANGELINE LAZARUS, MD | Medical Director of Kaseman Clinic | Heidi Webb |
| E25 | ALONA LEIBOWITZ | KTS Teacher Assistant | Leah Barnett |
| F1 | ISIS LEWIS | KTS Teacher Assistant | Leah Barnett |
| F2 | CARMEN LEZAMA | Clinic Manager of Kaseman Clinic | Jim Gilchrist |
| F3 | PRESIDENT ABRAHAM LINCOLN | Former President of the United States | Edco and Cecilia Bailey |
| F4 | VIOLA LIUZZO | 1965 Martyr | Edco and Cecilia Bailey |
| F5 | ESTHER LIVERPOOL | KTS Teacher Assistant | Leah Barnett |
| F6 | ELAINE LIZARDE MARTE | KTS Teacher | Hande and Ali Apaydin |
| F7 | OUR LADY OF LOURDES | Saint | Edco and Cecilia Bailey |
| F8 | YURI LUBRAN | KTS Teacher Assistant | Leah Barnett |
| F9 | SPC EFRAIM LUJAN | Army Security Agency | Eliseo and Irina Lujan |
| F10 | ELISEO LUJAN | US Army Vietnam War | Hande and Ali Apaydin |
| F11 | MARIA MACHADO | KTS Teacher Assistant | Leah Barnett |
| F12 | NELSON MANDELA | Civil Rights Hero of South Africa | Edco and Cecilia Bailey |
| F13 | IRENE MANOUSSOS | KTS Teacher | Hande and Ali Apaydin |
| F14 | LAURA MANSOUR OF JOHANNESBURG | Friend | Edco and Cecilia Bailey |
| F15 | MARY, QUEEN OF HEAVEN, REV 12 | Queen of Heaven | Edco and Cecilia Bailey |
| F16 | THEODORE MAVROS | KTS Teacher | Hande and Ali Apaydin |
| F17 | PROF. FRANK MCDONALD | Professor WMC | Edco and Cecilia Bailey |
| F18 | SHELLEY MCGINNESS | KTS Teacher | Heidi Webb |
| F19 | DENNIS MEALS | Family | Paul Boben |
| F20 | CHRISTINE MEDJIELIEU | KTS Teacher Assistant | Linda Ziglar |
| F21 | MEJIA-OTT, STEFAN | KTS Teacher | Frances and Alan Tetervin |
| F22 | DEANNA MELARA, MA | Reception/Front Desk Staff of Kaseman Clinic | Heidi Webb |
| F23 | ST. MICHAEL | Archangel, Defender | Edco and Cecilia Bailey |
| F24 | KEISHA MINGO | KTS Teacher Assistant | Linda Ziglar |
| F25 | MOHAMMAD ISLAM'S FOUNDER | Islam's Founder | Edco and Cecilia Bailey |
| G1 | JUAN MORALES-JALDIN | KTS Teacher Assistant | Linda Ziglar |
| G2 | MORENO REY, MANUEL | KTS Teacher | Frances and Alan Tetervin |
| G3 | JOAN MORRIS | KTS Teacher Assistant | Linda Ziglar |
| G4 | MORRISON, GABRIELLE | KTS Teacher | Frances and Alan Tetervin |
| G5 | MOSES | Prophet of God | Edco and Cecilia Bailey |
| G6 | PRESIDENT BARACK OBAMA | Former President of United States | Edco and Cecilia Bailey |
| G7 | OUSLEY, CHRISTOPHER | KTS Teacher | Frances and Alan Tetervin |
| G8 | SAE BOM "ELLEN" PARK | KTS Teacher Assistant | Linda Ziglar |
| G9 | BETH PATTISON | Neighbor and Community Leader | Theresa Garcia-Parks |
| G10 | ST. PAUL | Apostle | Edco and Cecilia Bailey |
| G11 | ST. PETER | Apostle | Edco and Cecilia Bailey |
| G12 | REV. CLEMENTA PINCKNEY | Martyr | Edco and Cecilia Bailey |
| G13 | FR. JERZY POPIELUSZKO, 1947-1984 POLAND | Martyr | Edco and Cecilia Bailey |
| G14 | ANA PORQUIN, MA | Medical Assistant of Kaseman Clinic | Heidi Webb |
| G15 | JEROME PRIEST | KTS Teacher Assistant | Linda Ziglar |
| G16 | PURCELL (HAGAN), CARA | KTS Teacher | Frances and Alan Tetervin |
| G17 | DAMARIS RAMIREZ TOLENTINO | KTS Teacher Assistant | Linda Ziglar |
| G18 | ROBINSON, ARNIKKA | KTS Teacher | Frances and Alan Tetervin |
| G19 | ARCHBISHOP ST. OSCAR ROMERO 1917-1980 | Martyr El Salvador | Edco and Cecilia Bailey |
| G20 | PRESIDENT FRANKLIN D ROOSEVELT | Former President of United States | Edco and Cecilia Bailey |
| G21 | RUMI | 1207-1273 Sufi | Edco and Cecilia Bailey |
| G22 | ANWAR SADAT | Former President of Egypt | Edco and Cecilia Bailey |
| G23 | AGNES SAENZ | Executive Director of Kaseman Clinic | Jim Gilchrist |
| G24 | NIKO CAN SCHURMANN | Cancer Fighter | Nil Saric |
| G25 | RHONA SCHWARTZ | KTS Administrator | Chenguttai (C.K.) Dheenan |
| H1 | SENFT, VIRIGINA | KTS Teacher | Frances and Alan Tetervin |
| H2 | VICTORIA SEO | KTS Teacher Assistant | Linda Ziglar |
| H3 | SEVIER, STACIE | KTS Teacher | Frances and Alan Tetervin |
| H4 | SGAH PASTORAL CARE VOLUNTEERS | Pastoral Care Volunteers | Edco and Cecilia Bailey |
| H5 | CHAPLAIN PENNY SHELL, SGAH | Chaplain | Edco and Cecilia Bailey |
| H6 | DR JOHN SHIGO, SGAH | SGAH Volunteer | Edco and Cecilia Bailey |
| H7 | SHORTER, JAYMES | KTS Teacher | Frances and Alan Tetervin |
| H8 | MARY BETH AND BOB SKUPIEN | Family/Friends | Edco and Cecilia Bailey |
| H9 | HYMAN SMITH | WW2 Soldier | Eileen McGuckian |
| H10 | ALI SMITH, RN | Nurse Supervisor of Kaseman CLinic | Heidi Webb |
| H11 | HELGA STEIN | Grandmother | Stephen Donnelly |
| H12 | MATTIE STEPANEK | American Poet | Botanero |
| H13 | STEWART, KAMI | KTS Teacher | Frances and Alan Tetervin |
| H14 | KAITLYN STILES | KTS Teacher Assistant | Linda Ziglar |
| H15 | BEVERLY STRYKER | KTS Teacher | Hande and Ali Apaydin |
| H16 | DEAN DOUG STUART | GCTS Hero | Edco and Cecilia Bailey |
| H17 | PELEG TAL | KTS Teacher Assistant | Linda Ziglar |
| H18 | THOMAS TALLIS (1505-1585) | Composer | Edco and Cecilia Bailey |
| H19 | AARON TASLITZ | KTS Teacher Assistant | Linda Ziglar |
| H20 | ASHELY TAYLOR | KTS Teacher Assistant | Linda Ziglar |
| H21 | ST. TERESA OF AVILA | Saint | Edco and Cecilia Bailey |
| H22 | ST. TERESA OF CALCUTTA, 1910-1997 | Saint | Edco and Cecilia Bailey |
| H23 | NIKOLA TESLA | Scientist and Inventor | Nil Saric |
| H24 | CAROL THEDFORD | KTS Teacher Assistant | Linda Ziglar |
| H25 | ST. THERESE OF LISIEUX, 1873-1897 | Saint | Edco and Cecilia Bailey |
| I1 | PROF. ARTHUR THOMAS | Professor in MWC | Edco and Cecilia Bailey |
| I2 | JOSEPH THOMAS, MRBC | MRBC Hero | Edco and Cecilia Bailey |
| I3 | LT. CMDR. JOHN THOMPSON USN | US Navy | Linda Ziglar |
| I4 | HAYK TIGRANYAN | KTS Teacher Assistant | Agnes Saenz |
| I5 | EMMETT TILL 1955 MARTYR | Martyr | Edco and Cecilia Bailey |
| I6 | ALYSON TILLES | KTS Administrator | John Knowles |
| I7 | MAGDA TRANAMIL, MA | Medical Assistant of Kaseman Clinic | Heidi Webb |
| I8 | MATTHEW VADNEY | KTS Teacher | Hande and Ali Apaydin |
| I9 | RODRIGO VALENZUELA | KTS Teacher Assistant | Agnes Saenz |
| I10 | BEVERLY WANG | KTS Teacher | Hande and Ali Apaydin |
| I11 | ROBERT "BOB" WASIK | Army Veteran | Edco and Cecilia Bailey |
| I12 | BOB WASIK | Deceased Husband, Army Veteran | Mary Wasik |
| I13 | TONYA WEAVER | KTS Teacher Assistant | Dr (Bonni) van Blarcom |
| I14 | MUSU WHEELER, | KTS Teacher | Hande and Ali Apaydin |
| I15 | TRACEY WILLCOX | KTS Teacher | Hande and Ali Apaydin |
| I16 | ROBERT WOODHAM | KTS Teacher | Hande and Ali Apaydin |
| I17 | JACOB YATOR | KTS Teacher | Heidi Webb |
| I18 | EREST YERGA | KTS Teacher Assistant | Chenguttai (C.K.) Dheenan |
| I19 | ZENA ZANGWILL | KTS Teacher | Heidi Webb |
| I20 | DR. ZONCA | Captain, MD, US Army | Edco and Cecilia Bailey |
| I21 | FERNANDO HANNON | Marine | Alicia Hannon |
| I22 | ROBERT E. STALCUP | US Army | Travis Stalcup |
| I23 | GEORGE W. WATERS | US Navy | Travis Stalcup |
| I24 | HENRY FRANKEN | US Army | Todd Franken |
| I25 | DR. LEONARD BIBERMAN | US Army | Todd Franken |
| J1 | AGNES SAENZ | Kaseman Clinic Co-worker | Angie Lazarus |
| J2 | ALI SMITH | Kaseman Clinic Co-worker | Angie Lazarus |
| J3 | MARIA CARDERA | Kaseman Clinic Co-worker | Angie Lazarus |
| J4 | ANNA POPQUIN | Kaseman Clinic Co-worker | Angie Lazarus |
| J5 | MICHELLE MORRIS | | Monique Ashton |
| J6 | SHAWNA PAGE | | Monique Ashton |
| J7 | LT. COL. FRANK ALEXANDER | US Air Force, Civil Air Patrol, Korean War Veteran, | Hande and Ali Apaydin |
| J8 | BRIDGET NEWTON | Mayor of the City of Rockville | Hande and Ali Apaydin |
| J9 | ANDY LETT | Director of Parks and Recreation, City of Rockville | Hande and Ali Apaydin |
| J10 | MONIQUE ASHTON | Council Member of the City of Rockville | Hande and Ali Apaydin |
| J11 | US SUBMARINE VETS - CAPITOL BASE | US Navy | Arthur Glover |
| J12 | ENCORE SINGERS | Musicians | Jennifer Boice |
| J13 | EDCO BAILEY, HANDE APAYDIN, THERESA GARCIA-PARKS | Rockville Rotarians | Agnes Saenz |
| J14 | | | Edco and Cecilia Bailey |
| J15 | | | Edco and Cecilia Bailey |
| J16 | | | Edco and Cecilia Bailey |
| J17 | | | Edco and Cecilia Bailey |
| J18 | | | Edco and Cecilia Bailey |
| J19 | | | |
| J20 | | | |
| J21 | | | |
| J22 | | | |
| J23 | | | |
| J24 | | | |
| J25 | | | |
| | | | |
Event Supporting Sponsors